As a follow up to Terry's inspirational Remembrance Day tribute song 'A Pittance of Time', 'Always There', celebrates those who have served as well as those who are now serving their country.
"The collection of music in this project sings of how things were, how things are, how they could be, and how some things never change regardless of the learning opportunities placed right before the eyes of humankind", said Kelly
"All of the original songs were born of and inspired by "A Pittance of Time" which is included among these 13 tracks. Since I wrote that song, I've met, spoken to and heard from thousands of service men and women and their families around the globe who have planted seeds for songs with me as a result of how "A Pittance of Time" has moved them in one way or another."
"I have also chosen and recorded songs not written by me that are fun-filled, hopeful, provocative, powerful, earth-moving, or a melody that is light and lifting or fills the heart with anger, despair or longing. I've been humbly moved to extend the reach of these songs from the genius of another artist with my voice to you."
A unique multi-media learning and awareness project that encourages a love of reading for all.
What began as an inspirational song written and then performed by Terry Kelly at the 2006 Canadian Library Association Conference, has evolved into the library community's battle cry for the power that reading brings to us all.
Following a request from the Braille200 committee to write a song in honour of Louis Braille's bicentennial, Terry Kelly accepted the challenge and also went a few steps further. The end result was the creation of, "Merci Louis", an educational enhanced CD and card that promotes Braille and the accessibility of information to persons who are blind or visually impaired.
The enhanced CD holder was designed to resemble and be used as a greeting card – with the CD fastened onto the inside right panel with a centre-piece which will allow the disc to be removed and later replaced.
"Christmas has many colours, many sounds, an abundance of fragrances and tastes and, of course, the ever accumulating basket of memories and traditions. All of these awaken a range of feelings and emotions in each of us every Christmas.

Music has a mystical and wondrous way of resurrecting our senses and memories of Christmases past.  It can also play a significant role in creating new memories – both happy and sad.
I wrote and selected the music on this recording to create a Christmas album for all ages. I hope that some of this music will make you laugh and reminisce, even if some of it may make you cry.  I also hope that some of this music will encourage you to be thankful for your many gifts and blessings and move you to enrich the lives of those less fortunate. Perhaps some of this music will become a recurring memory for you and your family on Christmases yet to come.
God Bless, Merry Christmas and a Happy New Year to each of you!"
This song was written for and about our veterans, peacekeepers, and the heroes at home.
In the interest of creating a greater awareness to the sacrifices that have been made and are still being made on our behalf, "A Pittance of Time" has been adapted to the French language and titled "C'est si peu de temps". Music videos for both audio tracks too were produced in support of the campaign and a musical/theatrical concert production, "Two Minutes of Silence – A Pittance of Time", was written for the stage.
"I have always been a dreamer; I will always be a dreamer. I have discovered that the power of the dream gives hope, strength, courage, empowerment, and brings about profound transformation in individuals and groups of people, if one simple rule is followed – honour the dream by taking action.
As my wonderful journey through life continues, I am evolving into more of a doer and so, many more of my dreams are being realized.
You will hear about several of my dreams and reflections in the music and lyrics of my songs. I hope some of them will stir you personally."
This project was Terry's fourth full-length recording and is the first where Terry has co-written all 12 cuts.
"I wanted to write some songs that reflect the dynamics of life. The music speaks to how we can complicate our lives, but it also celebrates something that I have always believed, and now know, and that is, life can be simple, if we make it so."
This recording reflects the duality of Terry's musical interests. In addition to the upbeat, hand-clapping numbers that have become a trademark of Terry's live performances, the album also features songs that lend themselves to quiet, reflective moments.
In Terry's words, "This album has allowed me to express both sides of my music. I hope that Divided Highway will be a source of entertainment and enjoyment for all music fans, pop or country. I also hope the listener enjoys the experience of the occasional crossing of the median"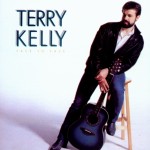 Currently Unavailable
Face to Face
This was Terry's second full-length recording. After completion, the project was signed to Attic records and is the only recording master of Terry's works that he does not currently control!
The tracks recorded on this project include: Mama Like To Rock 'n' Roll / California Night / How Far Can A Little Girl Fall / Evangeline / You Can't Hide From Love / You Really Did It / Greater Than Love / Inspiration / Full Time Lovers / Sorry Lori
This was Terry's first solo, full-length recording. The first seven tracks were studio produced while the remainder were recorded live at the Crow Pub in Sydney, Nova Scotia.