Celebrate life, energize your profession,
and discover what's possible, through
The Power Of The Dream
Life offers everyone gifts disguised as challenges.
This is one of the messages Dr. Terry Kelly delivers in his keynote addresses.
This unique presentation is an opportunity to review your talents and abilities and reaffirm your purpose.
Terry is the living model of his message, understanding his blindness as a gift that opens possibility and opportunity.
Using personal anecdotes peppered with humour, songs, and audience participation, Terry encourages individuals to develop their own values and strategies for living and working happily and healthily.
Explore the importance of communication, dreams, goals, choices and responsibilities; understand and celebrate our differences; balance our business and personal lives; and realize the value of enthusiasm!
The Power of the Dream will inspire, entertain, and holistically nurture your well-being.
---
Terry Kelly's passion for life has gained him international recognition as an award-winning singer/songwriter, a renowned motivational speaker, an accomplished athlete, and a consummate entertainer.
As a musician this Newfoundland native has released seven full-length recordings, resulting in seven East Coast Music Awards and nominations for four Canadian Country Music Awards and a JUNO. Terry has shared the stage with Symphony Orchestras, and has performed his own music in Europe, Australia, New Zealand, and for the troops in Afghanistan. He is most recognized for his inspirational song "A Pittance of Time".
Terry's motivational presentations, "We Can Do Anything" and "The Power of the Dream", are based on his own life experiences and the challenges he has overcome – and have inspired students, parents, teachers, government and corporate employees throughout North America.
Terry is a recipient of the King Clancy Award and has Honorary Doctorates in Civil Laws and in Fine Arts from the University of Kings College and Saint Mary's University, respectively. He has received the Canadian Country Music Association's Humanitarian Award; and has been appointed to the Order of Canada.
In the athletic field, Terry has distinguished himself as the third blind person in the world to run the mile in under five minutes.
From school classrooms to corporate boardrooms, from the recording studio to international conferences, from national radio shows to the pilot seat of an aircraft, from the controls of a Seadoo to the running of a sub-five-minute mile, Terry Kelly has been there. He has used his life experiences to touch the hearts of many and to motivate tens of thousands to live their lives to the fullest and, by his example, overcome personal challenges of all types.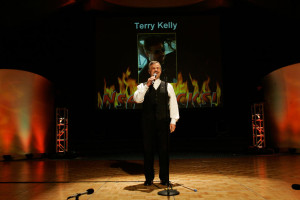 We take pride in representing accomplished athlete, multi award-winning singer, songwriter, entertainer and keynote speaker, Terry Kelly.
Rarely will you find such a unique individual as Terry who can deliver a powerful keynote or motivational presentation (accentuated with music); perform for an after dinner concert; entertain an audience in a party atmosphere; or sing the Canadian and/or American national anthem/s.
When performing in concert or for other full music engagements, Terry performs either solo, as a duo, a trio or with his full band. Terry's keynote and speaking engagements on the other hand are delivered by Terry solo.
You will find that one or more of these scenarios delivered by Terry will be unique and satisfying – we guarantee it !
Whether you need a speaker and/or entertainer for a lunch hour engagement or a full conference program, we offer packages that work with most budgets.
Regards,
Tony Kelly
Vice President
T.K. Productions Ltd.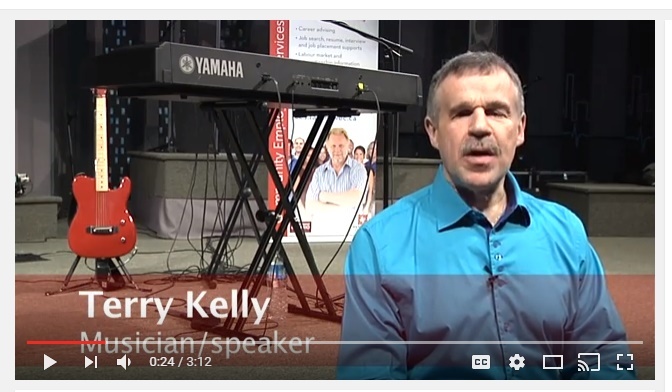 Terry Kelly – Overcoming the Barriers
Reporter: Jamans Abu-Farah / Fanshawe College TV
---
"Your presentation was in a word phenomenal! As I mentioned to you after the ceremony in all my years with the organization and nine conferences, your keynote address was the first I left feeling good about. Many of our members have commented to me that they felt the same way. They left the closing keynote in an upbeat and inspired mood."
– Jamie Shanks
Executive Director
Recreation New Brunswick
---
"His heart has no boundaries. He is authentic and the way he encourages people to be their best is inspiring."
– Heather Ostertag
Past President – CCMA
---
"The most bizarre business meeting I've attended – FABULOUS! A great practical example of making changes"
– Delegate
Great-West life Assurance
---
"… WOW! Thanks so much for such a great presentation and performance at the Canadian Food Inspection Agency's Annual Diversity Conference. You have a unique capacity to capture an audience… As for teamwork, Tony & you are to be admired: it was incredibly seamless! Tony's technical expertise was great, and his attentiveness to detail was a perfect balance to your artistic renderings – he is truly "an enabler".
Marilyn MacMillin
Spindrift Solutions