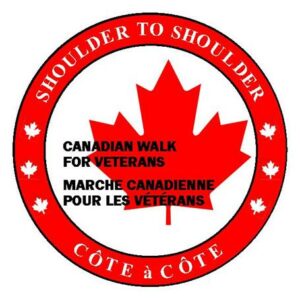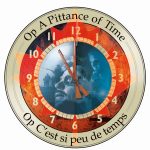 ---
Terry Kelly and the Canadian Walk for Veterans Announce
"Operation A Pittance of Time"
October 26, 2020 – On the eleventh hour of the eleventh day of the eleventh month Canadians from sea to sea to sea are invited to take "A Pittance of Time" to reflect on what it means to be Canadian: to take a moment in quiet reverence no matter where they are and experience deep emotional heartfelt gratitude for their individuality, community, culture, safety, peace and all of the freedoms that we enjoy in Canadian life.
The song "A Pittance of Time" was inspired and composed by Terry Kelly in 1999 as a result of an incident in a drug store – when a man chose not to join other customers who were taking two minutes of silence in honour of our veterans. As Terry's surrogate parents at the (residential) Halifax School for the Blind, were retired military women and men, Terry was determined to commit future energies towards creating a greater awareness of the sacrifices made to provide freedom and a more comfortable life for each of us!
This year, with that as his inspiration Terry, in collaboration with Honorary Colonel Dan Hennessey and the Canadian Walk For Veterans, is launching "Operation A Pittance of Time" as an opportunity for Canadians of all ages to honour those who fought for and continue to fight for our freedom: our veterans, our fallen, and our active service women and men.
With the COVID-19 epidemic inhibiting our freedom to congregate at national cenotaphs across the country, Canadians are invited to join us on Remembrance Day and take A Pittance of Time at 11am on November 11th. The silence could be 30, 60, 90 seconds, 2 minutes, or whatever amount of time fits into their particular life situation. Using the hashtags #apittanceoftime #remembranceday #canadaremembers they are encouraged to reach out through Facebook and other social media platforms to share their thoughts, ideas, and unique plans regarding how they will take "A Pittance of Time" for quiet reflection on Remembrance Day.
Families and friends across the country are already planning to gather in their bubbles, conference on Zoom, go out for walks, runs, and sing in a safe and respectful manner. As an eight-year-old girl recently said to Terry Kelly, "The sky's the limit"!
About Terry Kelly
As a musician this Newfoundland native has released seven full-length recordings, resulting in seven East Coast Music Awards and nominations for four Canadian Country Music Awards and a JUNO. Terry has shared the stage with Symphony Orchestras, and has performed his original music in Europe, Australia, New Zealand, and for the troops in Afghanistan. Terry is a member of the Order of Canada and is proud to serve as Honorary Colonel of 14 Wing Greenwood. www.terry-kelly.com
About Dan Hennessey
Dan is Honorary Colonel of 14 Construction Engineering Squadron, RCAF, Bridgewater NS. He is a strong proponent of the Canadian Armed Forces dating from his early years as an Air Cadet, is an active member of the Royal Canadian Legion, and maintains deep roots in community volunteer work.
About the Canadian Walk for Veterans
The annual Canadian Walk for Veterans is hosted by One Veteran Society and invites Canadians to walk shoulder to shoulder in recognition of our Military, Veterans and First Responders. It's an opportunity for Canadians to learn about the challenges of coping with life after service. www.canadianwalkforveterans.com-30-
Media Contacts:
Terry Kelly, Operation A Pittance of Time
Dan Hennessey, Operation A Pittance of Time
Marc Burchell, National Co-Organizer Canadian Walk For Veterans
Chance Burles, National Co-Organizer Canadian Walk For Veterans